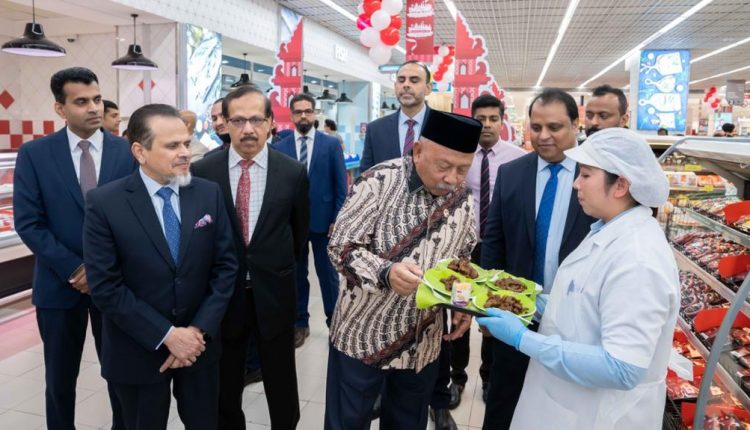 LuLu Hypermarket Launches 'Indonesia Festival'
LuLu Hypermarket Launches 'Indonesia Festival'
Abu Dhabi (Press Release)– LuLu Hypermarket, the leading retail chain in the Middle East, has announced the launch of the Indonesia Festival at Mushrif Mall, Abu Dhabi. The festival was inaugurated by H.E. Husin Bagis, Ambassador of The Republic of Indonesia, at LuLu Hypermarket, Mushrif Mall, Abu Dhabi, in the presence of Saifee Rupawala, Chief Executive Officer of LuLu Group, and Saleem VI, Chief Operating Officer of LuLu Group.
The week-long promotion which began on September 7 and will continue until September 13, 2023, at LuLu Hypermarket in Mushrif Mall, offers shoppers a wide variety of Indonesian products. This includes fresh vegetables and fruits, an impressive array of Indonesian food items such as classic instant noodles, pineapples, spices, and popular snacks like chocolates, wafers, candies, coffee, packaged sports drinks and the renowned Nabisco biscuits.The festival also offers non-food items, including plastic household goods and high-quality office copy paper from Indonesia. Shoppers can explore a selection of Indonesian-made cosmetics and beauty care products to enhance their shopping experience.
H.E. Husin Bagis, Ambassador of The Republic of Indonesia, expressed, "The Indonesian Festival held in Lulu Hypermarket Mushrif is an effort, a part of our gastro-diplomacy, cultural diplomacy, and economic diplomacy, to promote Indonesian products to people living in the United Arab Emirates including Emiratis and expatriates. Not only raw food is shown, but also cooked food special from Indonesia, usually known as Nusantara Food. Besides, in this opening session this morning, we also want to show that Indonesia has a beautiful culture through Indonesian traditional dance. Further, I would like to invite all UAE residents to come to Lulu Hypermarket Mushrif, to find all Indonesian products and taste Indonesian food."During the launch ceremony, LuLu Group Chief Executive Officer, Saifee Rupawala, said, "We are pleased to introduce shoppers to Indonesian food and non-food products. Currently, we operate six hypermarkets in Indonesia, as well as a major sourcing office. Our commitment to providing our shoppers with affordable shopping remains steadfast at LuLu Hypermarkets, and we are deeply grateful for the trust Indonesia has placed in us."
LuLu is well-known for hosting annual Country Festivals that showcases international cuisines and allows shoppers to experience different cultures through food.