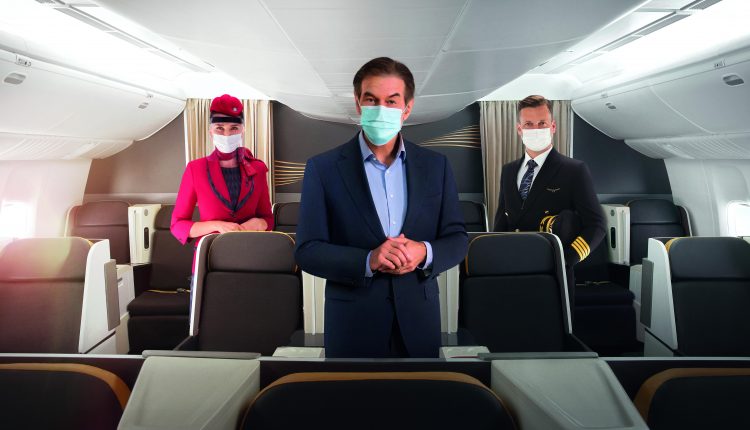 Turkish Airlines launches "TK Extra Care", a new hygiene programme
Turkish Airlines, launched a new hygiene programme "TK Extra Care", which highlights new protective hygiene measures, in collaboration with the global carrier's ambassador Dr. Mehmet Oz, the producer and host of the world-renowned "The Dr. Oz Show."
The announcement of the new animated in-flight video comes at a time when health and safety is a top consideration on travelers' checklists. Inspired by the airline's ongoing dedication to its passengers' well-being, the three-minute video follows Dr. Oz through the travel experience passengers should expect when flying with the global airline today. From the moment Dr. Oz checks-in for his flight to when he arrives at his destination, viewers will not only be reminded of the airline's hygiene protocols necessary for a safe flying experience, but will have full assurance that Turkey's flag carrier is enforcing a higher level of protection for every stage of the journey that goes above and beyond industry standards.
Turkish Airlines puts passenger hygiene at the forefront, protecting its guests at each stage of the journey. In the three-minute animated video, Dr. Oz shows that from checking-in online and carrying only personal items in the cabin, passenger contact is reduced. Viewers learn that upon entering the airport, all passengers must wear a mask and are provided with hand disinfectant and body temperature screenings throughout the terminal. The video also highlights that Turkish Airlines has taken extra safety steps to ensure peace of mind, such as disinfecting luggage with a UV system and boarding passengers in smaller groups from the back of the plane to the front. Hygiene Experts are present on each flight to maintain a high health and safety level, while each passenger will receive a hygiene kit upon boarding.
 The hygiene standards for our passengers are our top priority and we offer the highest standards,said by M Ilker Ayci Chairman Board&Executive Committee of Turkish Airlines.  
Dr. Oz has been sharing his expertise with Turkish Airlines' passengers since 2017, when the airline launched its "Fly Good Feel Good" project, created to provide an even more comfortable and healthy travel experience to its passengers.The videos are also available in one-minute and 90-second versions featuring animation of Dr. Oz. To watch the full "TK Extra Care" video featuring Dr. Oz, please visit: https://www.youtube.com/watch?v=6vvaXwuRcN0