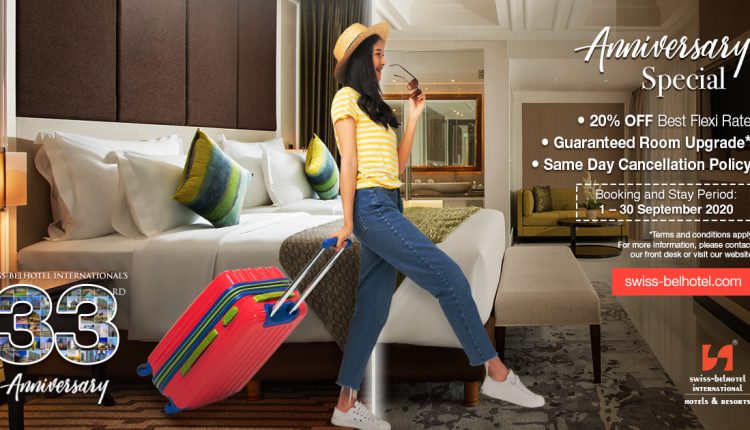 Swiss-Belhotel International Celebrates Its 33rd Anniversary with Global Promotions
20% off Best Available Rate -Guaranteed Room Upgrade to the next available room category.
Dubai(Press Release)Swiss-Belhotel International has launched a global room promotion at all its Swiss-Belhotel and Zest Hotel properties worldwide as well as a special social media campaign (#TogetherApartWithSBI) throughout September to celebrate its 33rd  anniversary.
Founded on 25th September 1987, Swiss-Belhotel International, the Hong Kong based international hotel management Group now offers 14 distinctive brands across 23 countries with more than 145* hotels, resorts and projects.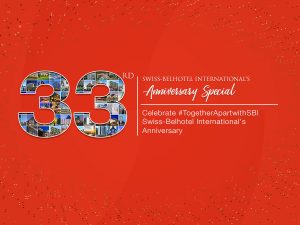 Mr. Gavin M. Faull, Chairman and President of Swiss-Belhotel International, stated, "We are proud of our accomplishments over the years and look forward to an exciting future. Propelled by a winning partnership philosophy of working hand-in-hand with our owners and investors, excellent teamwork, and guest satisfaction focus we have come a long way to be among the top 100 hotel management companies in the world. Our uncompromising quest for perfection and the drive for innovation, Passion and Professionalism™ is part of our DNA and culture. It forms the basis of the sustained success of our brand."
In line with the group's 33rd anniversary celebrations, all Swiss-Belhotel and Zest Hotel properties will be rolling out the following stay offer and social media activity that will enable guests to commemorate the brand's rich legacy and achievements.Swiss-Belhotel International's 33rd Anniversary Room Promotion
Stay period: 1 – 30 September 2020  Bookable on swiss-belhotel.com and zesthotel.com
20% off Best Available Rate –Guaranteed Room Upgrade to the next available room category.
Same day cancellation before 6pm.
Social Media Campaign #TogetherApartWithSBI has been chosen with Covid-19 making travelling difficult and how our social circles on Social Media are keeping us connected with each other virtually. Post your travel moments when you stayed in any of the Swiss-Belhotel International Hotels or Zest Hotels, to take part in the contest and win.6 lucky winners from 1st to 25th of September will be chosen and each of them will receive a 3 days 2 nights stay in either a Swiss-Belhotel International Hotel or a Zest hotel including a complimentary SBEC card each, making them a member with room and food & beverage benefits in all 145 Swiss-Belhotel International Hotels and Zest hotels for 1 year.