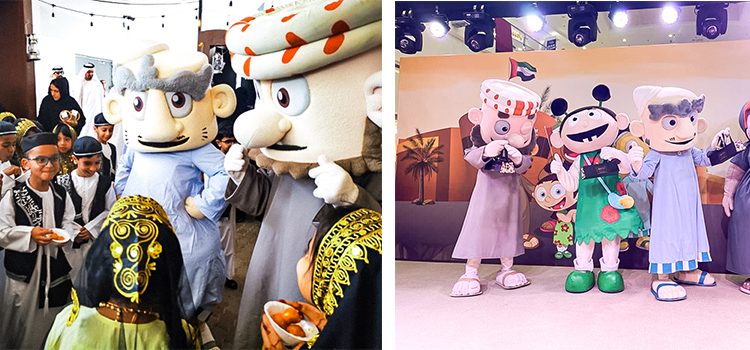 Shop, Win & Watch Shaabiat Al Cartoon Live on Stage during Eid Al Adha at Bawabat Al Sharq Mall
Shop, Win & Watch Shaabiat Al Cartoon Live on Stage during Eid Al Adha at Bawabat Al Sharq Mall
Abu Dhabi(News Desk):: Bawabat Al Sharq Mall, one of the leading shopping and entertainment
destinations for families in Abu Dhabi, has unveiled its new Eid Al Adha program, featuring fun-packed
events and entertainment activities for all.The highlight of this year's Eid Al Adha festivities is a special show by Shaabiat Al Cartoon who will be taking on the Bawabat Al Sharq Mall stage for the first time ever. Children will get to meet and engage with their favorite cartoon characters in real life, as the latter will be performing live at 5:30pm, 7:45pm and 9:00pm over three days. They will also enjoy taking pictures with Shaabiat Al Cartoon mascots and spending memorable moments with their friends and family during Eid.
In addition to the Shaabiat Al Cartoon stage show, Bawabat Al Sharq Mall will be dedicating a special
play area for kids, available from June 22 nd to July 1 st , between 12:00pm and 10:00pm, for them to come
and engage in a variety of fun activities for the entire family, including arts, crafts, games and more.
Always striving to provide visitors with a truly rewarding shopping experience, Bawabat Al Sharq Mall
will be running a new Shop & Win campaign as well, starting June 1 st to July 12 th , 2023. By shopping for AED 200 from any store or for AED 400 at Carrefour, shoppers stand a chance to enter the big draw on
an all-new Volkswagen Teramont. The name of the lucky winner will be revealed during the draw which
will be held on July 13th, 2023 at 5:00pm.
With over 350 stores by local and international brands to discover, unbeatable offers across the mall,
and exclusive Eid Al Adha discounts available, shoppers will be spoiled for choice. From the latest global
and local fashion trends, to beauty and skincare products, fun and fine jewelry, toys and stationery,
shoes, bags, perfumes and home fragrances, furniture and décor items, visitors will find everything
they're looking for and more. When they're done shopping, Bawabat Al Sharq Mall invite them to
immerse their senses in an exceptional culinary journey that will take them around the world. Boasting a
great selection of restaurants and cafés, the Mall is the perfect place for loved ones to gather around a
festive meal.
Cherry on top, the Mall's facades will be lit starting June 16 th to July 13 th , between 6:00pm and 3:00am
every day, to add a warm touch to this year's Eid Al Adha celebrations. It's time to gather, rejoice and celebrate together again! Join us at Bawabat Al Sharq Mall for yet another unforgettable experience!(-Ends-)