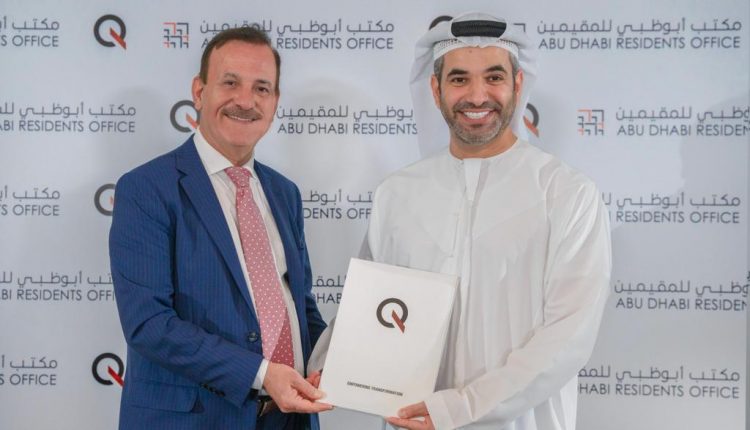 Q Holding Signs a Strategic Agreement with Abu Dhabi Residence Office
Q Holding Signs a Strategic Agreement with Abu Dhabi Residence Office
The agreement aims to stimulate investment and stability in the capital
 Abu Dhabi(Press Release):: "Q Holding" signed a strategic agreement with the Abu Dhabi Residents Office (ADRO), a division of the Abu Dhabi Department of Economic Development, to promote real estate investment and community development in the UAE's capital, Abu Dhabi. Under the terms of the agreement, the Abu Dhabi Residents Office will nominate real estate investors for the Abu Dhabi Golden Visa upon purchasing a property in "Reem Hills" project, of "Q Properties" (A subsidiary of "Q Holding), that is worth no less than AED 2 million.
Executive Director of Abu Dhabi Residents Office (ADRO)H.E. Hareb Al Mheiri, said  "We are delighted to sign this promising agreement with Q Holding, which reflects Abu Dhabi's efforts to build an inclusive community encouraging current and new residents to live and grow in the Emirate. The agreement also offers various services and programs that stipulates the need to build a sustainable economic system, through attracting and retaining investors, entrepreneurs and top talent in Abu Dhabi."
Chief Executive Officer of Q Holding, Majed Fuad Mohammed Odeh commented on the occasion: "The agreement comes in line with the thought leadership of the UAE, who aims to raise the investment appeal of the country and provide the ideal environment for the investors and entrepreneurs. It will also expand their business and ambition prospects through obtaining the golden visa"."We highly value the Abu Dhabi Residents Office's efforts to position the capital as a leading global destination that contributes to promoting economic diversity and supporting sustainable development efforts," He added."Reem Hills" is a luxurious residential gated community, which demonstrates luxury and ease of living. It is located in Reem Island, which embraces a wide range of shopping malls, schools and universities, as well as hotels, beaches and other vital facilities.