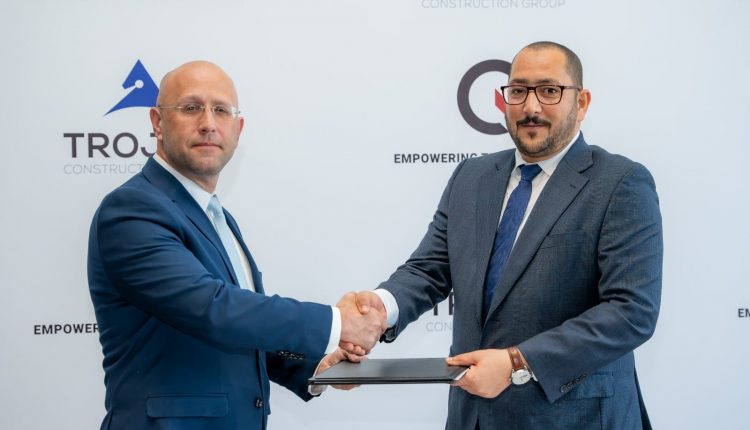 "Q Holding" and "Trojan General Contracting" forge a partnership to build 1742 villas for Emiratis in Abu Dhabi
"Q Holding" and "Trojan General Contracting" forge a partnership to build 1742 villas
for Emiratis in Abu Dhabi
Abu Dhabi(Press Release):: Q Holding Group signed two important agreements with Trojan General Contracting, one of the leading local contracting and development companies, to design and build 1742 villas for Emiratis in Al Samha and West Baniyas region of Abu Dhabi for Q Holding. The two agreements follow the partnership between Q Holding and Abu Dhabi Housing Authority to develop the two regions in line with Abu Dhabi's Vision 2030 to build sustainable cities and provide an advanced housing environment for citizens of the country.
Mr. Majed Odeh, Group CEO at Q Holding; said: "Our agreement with Trojan to develop these two new projects came after a thorough study of the company's track record in building to the highest standards. Both agreements have reaffirmed our commitment to provide added value to Abu Dhabi's economy and to our society at large. We are confident that the accumulated experience of our partners will ensure that the projects are completed in accordance with the highest agreed standards, within the set time and budget. "
Commenting on this partnership, Eng. Mohammed Mahmoud, CEO at Trojan; said: "Being chosen by Q Holding to implement these two giant projects places a great responsibility on us to meet the high standards that Q adopts and emphasizes. We will certainly use our full accumulated expertise to provide a sustainable housing environment and services that meet those standards, in line with our wise leadership's vision for Abu Dhabi's future"The scope of work in both conventions include the design, construction and infrastructure development for final delivery of the projects.
Ben Hudson, CEO at Q properties, the development arm of Q Holding; commented on the agreement: "Our goal is to contribute to making Abu Dhabi one of the greatest cities for living in the world.  We want to ensure that the residents of Abu Dhabi have access to best-in-class practices in community living while contributing to a more environmentally sustainable world. With the help of Trojan, we are confident that our joint efforts will bring this vision to life and we will deliver these projects at the highest quality."The strategic West Baniyas project is scheduled to be implemented over the next four years. The project will cover a large area of approximately 6 million square meters and the construction of 1500 villas, with various necessary infrastructure works including roads, social, educational and service facilities, parks and green spaces.The new Al Samha project will be implemented over thirty-eight months, covering an area of more than half a million square meters. It involves the construction of 242 villas, as well as several necessary infrastructure works accompanying the project to provide environmental sustainability and comfort to its residents.