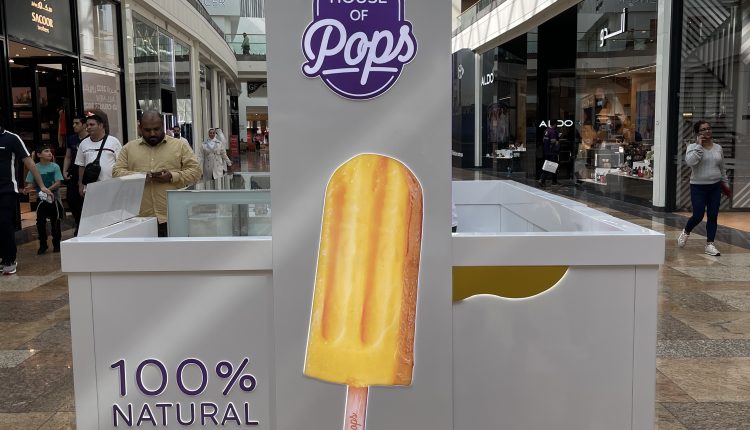 HOUSE OF POPS OPENS MORE UAE STORES
New Outlets in Dubai Festival City & Rahmania Mall Sharjah
HOUSE OF POPS OPENS MORE UAE STORES
Healthy treats on a stick are now available at Dubai Festival City and Sharjah Rahmania Mall
New openings underline brand's growing success, with first stand alone store in Sharjah
Dubai(Press Release):: House of Pops, everyone's favourite healthy treat on a stick, is marking the new year with a host of exciting new store openings – including its first in-mall kiosks and presence in Sharjah.
The brand's instantly-recognisable brightly designed kiosks can now be found in Dubai Festival City Mall and in the Dubai Festival Plaza.The first House of Pops stand-alone store is in Rahmania Mall, Sharjah's newest shopping and leisure community destination.
Chief Executive Officer Mazen Kanaan says: "We are constantly looking at ways to ensure our healthy treats reach as many people as possible. The Dubai Festival City area is always lively, and we are looking forward to serving people both inside the mall and at their homes, since we will also be expanding our delivery services""Our Sharjah opening is extremely exciting for us. Rahmania Mall saw an impressive rise in visitor numbers in 2022, and we shouldn't deny the good people of Sharjah the chance to enjoy one of our delicious pops in this lovely new neighbourhood destination. Our first Sharjah kiosk has been placed after a great many requests for one via our social media channels."
Mazen says the Rahmania Mall is also a strategic location for better servicing of online orders in the Northern Emirates. The store is located in front of the mall's anchor store, Sharjah Co-op, and is open from 10am to 10pm every day.
The Festival City Mall outlet – outside the Nike retail space – is also open from 10am-10pm, serving healthy fresh treats on a stick throughout the day.
This latest investment in new outlets brings the number of kiosks, bikes and stores to 15 in the UAE, including Yas Mall.The ground-breaking ice pops and ice creams combine natural ingredients, hand-crafted recipes, sustainability and happiness in an unforgettable treat – the perfect festive gift.
Each bar makes a satisfying, indulgent treat – without any added refined sugars, artificial fats, colourings or nasties.House of Pops' mission is to deliver healthier snacks in a region renowned for having a sweet tooth. Its 'pops' are full of natural fibre and made only with plant-based ingredients. The company's philosophy is aligned with the UN's SDG goals, including sustainability, good health for all and minimal resource wastage.
[ends]