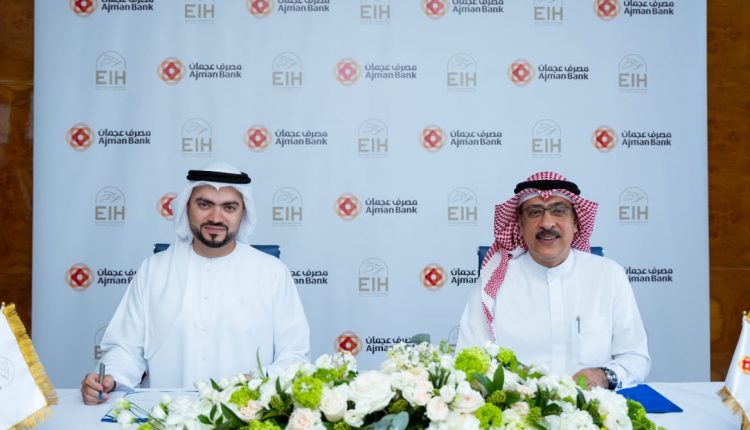 Ethmar International Holding and Ajman Bank Conclude Strategic Partnership Agreemen
Ethmar International Holding and Ajman Bank Conclude Strategic Partnership Agreement
Strategic partnerships and the upcoming listing will contribute to the development of the company's business and increase its successful investments at the local and international levels.(Ali El Gebely)
We are always keen to enter such partnerships for the interest of investors.(Mohammed Amiri)
AbuDhabi(Press Release)::Ethmar International Holding (EIH) has signed a strategic partnership agreement with Ajman Bank, one of the leading Islamic financial institutions in the UAE, as part of the preparations for listing EIH as a joint stock company in the UAE stock market.
The partnership agreement, whereby Ajman Bank will act as a strategic partner during the private offering process, represents a new milestone in the track record and achievements of the two companies, and contributes to the expansion of local markets and the growth and development of the UAE economy, in line with country's leadership's vision to create a clear path for sustainable economic growth
On this occasion, Mr. Ali El Gebely, the Managing Director and CEO of Ethmar International Holding, said "Ethmar International Holding a a leading company in the Middle East, seeks to build real value for the future of investment through strategic partnerships and to develop a diversified, innovative and sustainable investment portfolio."He added: "the UAE economy serves is a key hub for the financial markets' activities in the Middle East, and this clearly reflected in the great economic boom in the country". He stressed that the high resilience that UAE economy has demonstrated in the face of the ongoing global challenges has attracted many investors from all over the world to establish their businesses and invest in this fast-growing emerging market. He also praised BHM Capital's broad experience in the financial markets, and in providing high-quality services in line with the highest international standards.
Commenting on the partnership, Mr. Mohamed Amiri, Chief Executive Officer, Ajman Bank, said, "We are delighted to have such investment opportunities and glad to collaborate with Ethmar International Holding as we always seek partnerships for the benefit of the investors in the company. We are confident this strategic initiative, which aligns with our commitment to supporting the growth of the UAE's economy will serve the interests of the bank's investors. We look forward to leveraging our expertise and resources for the benefit of all."Holding many companies in various commercial and industrial sectors, including energy, technology and real estate development, the Abu Dhabi-based Ethmar Holding Group focuses on encouraging and developing diversified businesses across a wide range of key sectors at the local and international levels, in pursuit of sustainable returns that ensure strong and continuous growth for the group.
Established in the Emirate of Ajman in 2007, Ajman Bank is an Islamic commercial bank based on the values of integrity, trust, and transparency. Its shares were listed on the Dubai Financial Market in February 2008. Ajman Bank today operates a network of branches and ATMs spread all over the United Arab Emirates after having officially commenced its operations in 2009 through two branches in the emirate of Ajman.