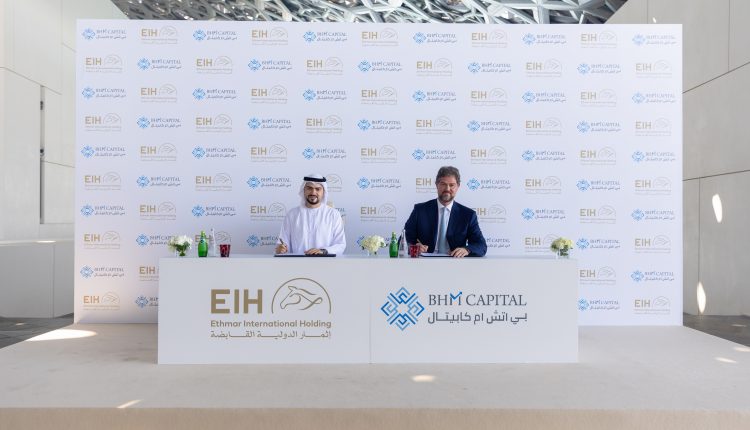 EIH acquires majority stake in BHM Capital
EIH acquires majority stake in BHM Capital
The move is part of EIH's strategic vision to diversify and expand its investments
AbuDhabi(News Desk):: EIH Ethmar International Holding PJSC;EIH a company based in Abu Dhabi, has announced the acquisition of a majority stake in BHM Capital Financial Services PJSC. This move comes as part of EIH's strategy to diversify and expand its investments, especially in the financial services sector.
This marks one of the largest investments of EIH in the financial sector, achieved through an acquisition agreement with BHM Capital, a private joint-stock company listed in the Dubai Financial Market (DFM). Since its establishment in 2006, BHM Capital has maintained its position as one of the top financial institutions locally and regionally,providing industry leading financial and investment services.
The announcement was made during a press conference held on Thursday at the Louvre AbuDhabi, attended by the Board members, CEOs of both groups, investors, as well as representatives from local and international media.
EIH has a successful track record of exceptional profitability growth levels and considers adding the financial services sector to its investment portfolio as part of its diversification strategy. This will provide BHM Capital with the opportunity to offer more integrated financial services and expand its business to include new markets.
On the occasion, Mr. Ali Elgebely, Managing Director and Group CEO of EIH, said: We are pleased to announce today a strategic acquisition in BHM Capital, which represents a significant and important step in our plan to invest in financial markets, supporting our vision to diversify and expand into various sectors. This aligns with our current and future plans through strong and strategic partnerships contributing to the development of a diverse, innovative, and sustainable investment portfolio.
Elgebely added:;We affirm our core strategy at EIH, which aims at diversifying our investments and making successful acquisitions that generate added value to our investors.
Through this partnership with BHM Capital, we look forward to launching strategic projects in the current and future financial markets, providing high-quality services in line with the highest global standards.
Abdel Hadi Al Sadi, CEO of BHM Capital, commented on the acquisition, saying:;We are very pleased with our partnership with EIH, as it represents a significant and major step that boosts our successful journey and acts as a strong drive towards achieving our promising strategic goals. We aim to become one of the leading providers of integrated financial and investment services in the region.This strategic partnership will offer numerous opportunities for BHM Capital, allowing us an ideal chance to sustain our growth trajectory, strengthen our position, and advance in expanding our operations into new markets while adopting and implementing the best global standards and practices.; Al Sadi added.
EIH Ethmar International Holding actively encourages and develops diversified businesses by investing in a wide range of sectors at the local and international levels, aiming to achieve sustainable returns that ensure strong and continuous growth for the group. On the other hand, BHM Capital has extensive experience in funds and investment portfolios management, financial consulting for mergers and acquisitions, capital restructuring, corporate valuation, brokerage in local and international stock markets, and many innovative investment products.(-Ends)