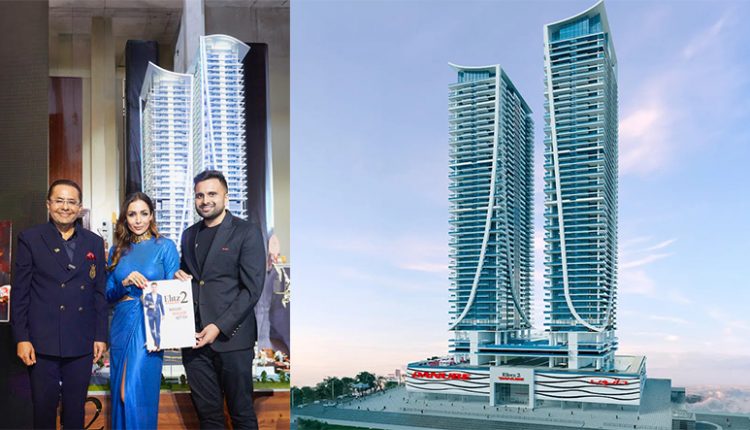 Danube Properties launches AED900million, Elitz 2 project in JVC Dubai.
High demand propels Danube Properties to launch Dh900 million Elitz 2 project in Jumeirah Village Circle Dubai. 
Danube Properties launched eight projects in 16 months while it prepares to
deliver three projects with 1,303 apartments this year
Dubai:(News Desk)::Danube Properties, the fastest-growing private real estate developer in the UAE,
announced the launch of Elitz 2 at the Jumeirah Village Circle (JVC), with a development value exceeding Dh900 million in the presence of His Excellency Dr.Thani bin Ahmed Al Zeyoudi, UAE Minister of Foreign Trade and Bollywood superstar Malaika Arora.
The project will be near Elitz 1 tower – which is currently under construction –and help meet the growing demand for quality homes at prime locations.When completed in the third quarter of 2026, Elitz 2 will deliver 750 residential units including studio apartments, 1-bedroom, 2-bedroom and 3-bedroom
apartments and a few retail stores. Like most other Danube projects, homes atElitz 2 will also come with more than 40 amenities for the community, including health and lifestyle amenities and a health club, swimming pools, sports arena,tennis court, barbecue area, jogging track, among other facilities.
Prices of residential units starts from Dh650,000 (US$177,111) for a studio apartment. However, prices of the units will continue to appreciate with time,making them worth investing in. Danube Properties' homes comes with attractive and trend-setting 1% payment plan, following the initial deposits – making home
acquisition more affordable and simple.
Danube Properties Sheikh Zayed Road, P.O. Box 113806, Dubai UAE Tel: + 971 8005757-Fax: + 971 4 399 8222 Email: Aditi.khare@danubeproperties.ae Web: www.danubeproperties.ae
The homes are usually delivered around mid-way of the payment plan, which means the buyer can move in the apartment after paying 60 percent of the total value of the property. This helps homeowners to extract additional value either by increase savings on the rents or by paying the equated monthly instalments
(EMI) from the rental income. Elitz 2 is Danube Properties' 23 residential project in 9 years since the company started development activities in 2014 and the 8th project in a row to be launched in the last 16 months, that translates to one project launches in every two months – making it also the busiest private real estate developer in the UAE.
Danube Project Development Factsheet
No -Danube Projects –  Residential Units -Sales Value -Status
1 Dreamz 171  Townhouses  Dh500 million Delivered
2- Glitz Residence I 151 Units Dh132 million Delivered
3-Glitz Residence II 151 Units Dh136 million Delivered
4- Glitz Residence
III
358 Units Dh350 million Delivered
5- Starz Tower 454 Units Dh289 million Delivered
6 -Glamz Residence 426 Units Dh270 million Delivered
7- Miraclz Tower 599 Units Dh400 million Delivered
8- esortz Residence
444 Units Dh300 million Delivered
9- Bayz Tower 463 Units Dh468 million Delivered
10- Jewelz Residence
463 Units Dh300 million Delivering soon
11- Lawnz Residence 1,063 Units Dh550 million Delivered
12- Elz Residence 275 Units Dh130 million Delivered
13 -Wavez  Residence
434 Units Dh200 million Delivering soon
14- Olivz Residence 411 units Dh200 million Under Construction
15 -Skyz Residence 829 units Dh487 million Under Construction
16- Pearlz By Danube
302 units Dh300 million Under Construction
17 -Gemz By Danube 279 units Dh364 million Under Construction
18- Opalz By Danube 575 units Dh525 million Under Construction
19 -Petalz By Danube
350 units Dh280 million Under Construction
20- Elitz Towers 581 units Dh550 million Under Construction
21-Viewz Towers 1,132 units Dh2.05 billion Ground Broken
22 -Fashionz 803 units Dh1 billion Launched
23- Elitz II 750 units Dh900 million Launched
Total 23 Projects 11,464 Units Dh10.68 billion/Construction/Delivery
(Ends)