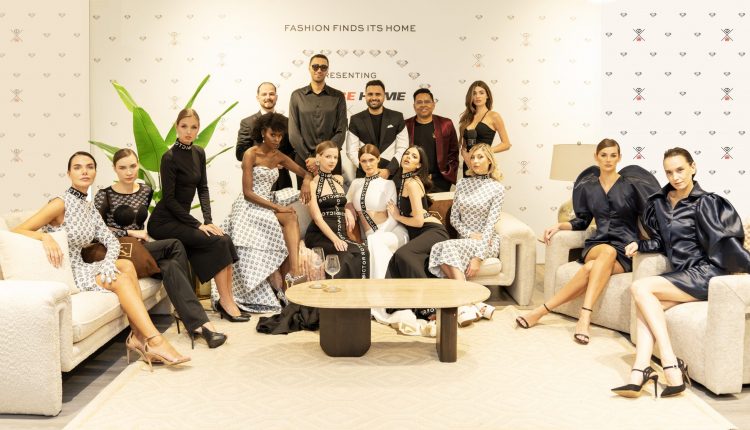 Danube Home launches their chic and stylish FashionTV collection
Danube Home launches their chic and stylish FashionTV collection
Dubai(Press Release)::Danube Home, the region's premier home improvement and furniture retailer, announced their latest collaboration with FashionTV to announce their chic and stylish collection. This exciting partnership with FashionTV has resulted in a stunning new range that combines elegance with comfort. The collection made a grand entrance as the talents of designers like M.V. Al Masri and EL ÀNGE Couture designs took center stage in a spectacular fashion show. This captivating event unfolded at the prestigious Danube Home showroom in Al Barsha. The event was attended by Adel Sajan, Director, of Danube Group; Maximilian Dennis Edelweiss, CEO of FashionTV; Sayed Habib, Director, of Danube Home; key influencers and media from the region.
Fashion found its new home at Danube Home, with the launch event featuring glamorous runway shows that showcased collections by some of the region's top fashion designers. The event celebrated the seamless blend of fashion and home decor, setting the stage for the exquisite collection's debut.
Adel Sajan, Director of Danube Group, sharing his thoughts on the collaboration, said, "The partnership with FashionTV is a testament to our commitment to innovation and excellence. We are proud to bring this branded collection to our customers, and we believe the uniqueness of the collection will redefine the way people view home decor. It's a step towards creating homes that reflect personal style and provide comfort without compromising on aesthetics."
The FashionTV collection by Danube Home embodies the essence of stylish and comfortable living. The pieces in this collection boast sculpted forms and luxurious details, incorporating bold textures that lend a contemporary and sophisticated vibe to any interior. The color palette features neutral hues with delightful pops of color, while impeccable detailing and the perfect fusion of comfort and effortless style make this premium collection an irresistible choice for fashion-forward homeowners.
Sayed Habib, Director of Danube Home, expressed his excitement about this new collection, saying, "As a customer-centric brand, we are consistently looking for ways to stand out and impress our clients with our offerings, be it the range of products we have, the designs we bring, or the quality of our products. With this FashionTV collection, we aim to bring fashion into our homes. The shapes, colors, prints, patterns, and textures introduce customers to an elevated, stylish new way of living in their homes. I'd like to commend the product heads and designers who made this collection a reality, and I look forward to seeing how customers enjoy this all-new offering."The FashionTV collection by Danube Home is now available at the Al Barsha showroom, and it promises to elevate the art of interior design, offering customers an opportunity to infuse fashion and style into every corner of their homes.
For more information about the FashionTV collection and other products from Danube Home, please visit www.danubehome.com or visit the nearest Danube Home showroom.