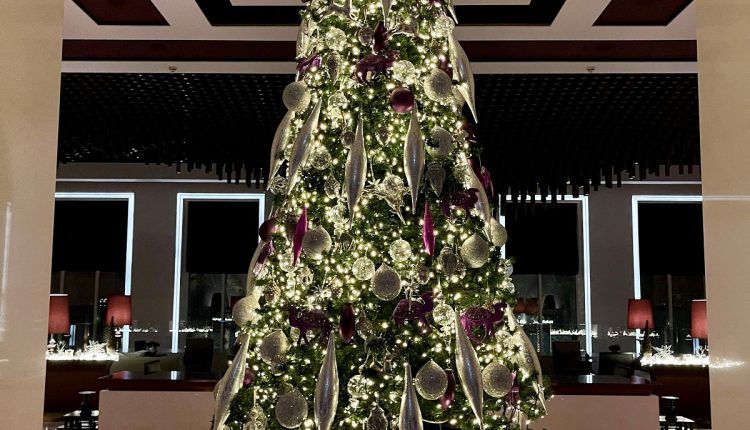 CELEBRATE THE FESTIVE SEASON AT PARK HYATT ABU DHABI HOTEL AND VILLAS
Bid goodbye to 2020 and embrace a fresh new start at the Park Grill Terrace
CELEBRATE THE FESTIVE SEASON IN SOPHISTICATED STYLE  AT PARK HYATT ABU DHABI HOTEL AND VILLAS
 Abu Dhabi(Press Release): A delightful and sophisticated festive celebration awaits at Park Hyatt Abu Dhabi Hotel and Villas. Rejoice in an extensive selection of delectable dining options, bringing an unparalleled spread of cuisines, festive delights, and fun-filled entertainment for all guests.
Christmas Eve – 24th December:A heartwarming Christmas eve dinner is better spent with the family in a cozy and cool breeze setting and it is just what The Beach House is offering. Relish traditional Christmas favorites in a family-style dinner of exquisite 4-course menu on choices of Foie gras, Black truffle, Duck leg confit, and indulgent crumbles among many others, available from 6:30 pm to 10:30 pm for only AED 350 per person including soft beverages and AED 150 for kids between 6 to 12 years.
For an elegantly appointed Christmas Eve dinner, The Park Grill Terrace is a perfect place for you. Spend an intimate yet memorable Christmas eve with a barbecue dinner for only AED 299 per person inclusive of soft beverages and AED 120 for kids between 6 to 12 years old, available from 6:30 pm to 10:30 pm.
Christmas Day – 25th December:Take pleasure in the most wonderful time of the year and be thrilled with the bountiful table brunch at The Beach House starting from 1:00 pm to 4:00 pm and resumes back at 6:00 pm to 10:00 pm. Revel in your favorite festive delights served at the table for a mouthwatering dining journey of Maple Pecan Bun, Smoked Duck Breast, Cod fish, to be ended on a sweet note of Apple Crumble Tart. All you can enjoy for only AED 395 per person and AED 150 per child between 6 to 12 years old inclusive of soft beverages. You can avail unlimited house beverages including soft beverage, sparkling wine, cocktails, and others by adding AED 299.
New Year's Eve – 31st December:Cheers to a brand-new year perfectly complemented with a five-course set dinner at The Beach House. Drink a toast while enjoying unrivalled entertainment brought by DJ Eva, Live Percussionists, and Fire Dancers. Adults and families are welcome to enjoy this celebration for only AED 750 per person inclusive of soft beverages, AED 1150 if you wish for unlimited house wines and other house beverages, and AED 200 per child between 6 to 12 years old available from 6:00 pm to 9:00 pm.
Adults may enjoy Champagne and cocktails at a separate cost.
Usher in 2021 and enjoy Vayu from 6:00 pm to 11:00 pm and delight in the Oyster Bar and Champagne whilst being entertained by DJ Eva and the fire dancers.
Bid goodbye to 2020 and embrace a fresh new start at the Park Grill Terrace. From 6:30 pm to 10:30 pm, welcome the New Year with a barbeque dinner for the entire family for only AED 799 per person inclusive of mouth-watering food, house wines, and other house beverages and AED 200 for kids between 6 to 12 years old.For more information, visit www.hyatt.com/parkhyatthotelandvillas