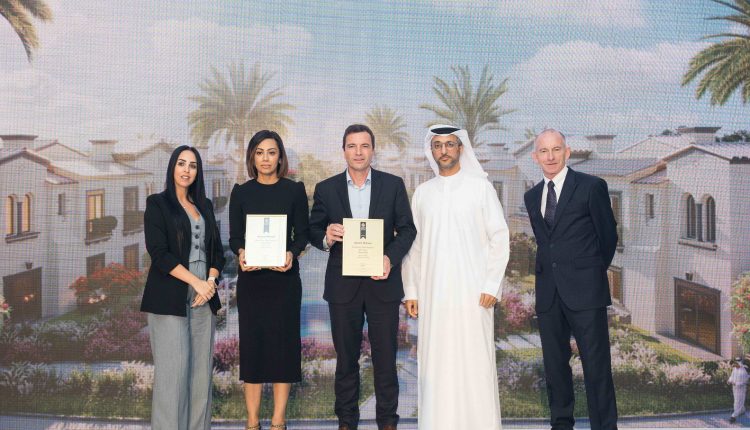 Bloom Holding Wins Best Mixed-Use and Residential Development in Abu Dhabi with Arabian Property Awards
Bloom Holding Wins Best Mixed-Use and Residential
Development in Abu Dhabi with Arabian Property Awards
Abu Dhabi(News Desk):: Bloom Holding, one of the UAE's foremost real estate development companies, has won two Arabian Property Awards for its fully integrated and all-inclusive project in Abu Dhabi, Bloom Living.
The master-planned community received awards for 'Best Mixed-use Development' and 'Best Residential Development'. Each of the two awards categories welcomed hundreds of entries, including some of the region's most renowned real-estate projects. The nominations showcased Bloom Living's multi-generational offerings centered around community living, as well as the abundance of amenities and recreational facilities it provides for residents to lead a fulfilling life.
Bloom Living displays an exceptional level of innovation by seamlessly integrating residential, educational, and recreational spaces within a single all-inclusive community. The development also features a Town Center that offers an array of exquisite restaurants and cafés available for both residents and visitors, as well as a variety of retail options and services such as a medical clinic, a wellness center and a supermarket, to ensure that residents can obtain all their daily necessities without the need to leave the community.
Inspired by Mediterranean Spanish architecture, Bloom Living is a self-sufficient, walkable community that features a selection of 4,500 villas, townhouses, and apartments, that suit the unique needs of all types of residents. The gated community is located within Zayed City and close to Abu Dhabi International Airport.
Bloom Living includes multi-purpose amphitheaters and Sunset and Sunrise Plazas for gatherings and leisure activities. Moreover, the community comprises places of worship and two outstanding international schools. Residents can explore the beauty of nature at Bloom Living's multiple uninterruptedly interconnected parks, and they can also enjoy their time at the community's main Clubhouse which provides easy access to pools, sports, and recreational facilities.
The Arabian Property Awards are judged by an independent panel of industry experts. The judging process focused on design, quality, services, innovation, originality, location, objectives, marketing, and unique selling points, as well as commitment to sustainability.
CEO of Bloom Holding, Carlos Wakim said: CEO of Bloom Holding, Carlos Wakim said: "Over the years, Bloom Holding has promoted its position as a pioneer in developing premium mixed-used developments. We have established a strong reputation for bringing the right type of product to the UAE market and addressing the needs of those looking for communities that offer a holistic lifestyle experience, where they can live, work and play. With Bloom Holding's stamp of superior quality, we continue to offer end-users and investors a great return on investment and a competitive rental yield.
"Bloom Living is our most recent fully integrated mixed-use community, and we were confident that it would perform strongly in the awards this year. This unique project is set amidst distinctive Mediterranean ambience with lush greenery and lifestyle amenities, offering its residents access to high-end, luxurious community living.
"Winning these two highly regarded awards is a testament to Bloom Holding's unique offerings and ability to monitor and adapt to the needs of the market, and we are looking forward to achieving further wins in the future." He added.
Stuart Shield, President of International Property Awards commented: "I'd like to extend my congratulations to the winners for achieving this great success. This is an achievement that is recognized as a mark of excellence for property professionals."
The Arabian Property Awards are part of the International Property Awards which is the largest, most prestigious, and widely recognized award program throughout the different regions. The awards celebrate the highest levels of achievement by companies operating in all sectors of the property and real estate industry.