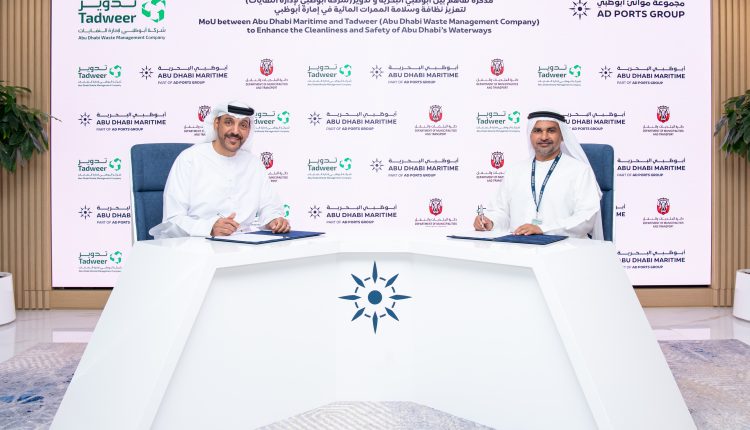 Abu Dhabi Maritime and Tadweer sign MoU to Enhance
Abu Dhabi Maritime and Tadweer sign MoU to Enhance
Cleanliness and Safety of Abu Dhabi's Waterways Collaboration set to protect the marine eco-system and
environmental sustainability for future generations
Abu Dhabi, U.A.E(News Desk)::: Abu Dhabi Maritime, part of AD Ports Group (ADX: ADPORTS), and a collaboration with the Department of Municipalities and Transport, has signed a new Memorandum of Understanding with Tadweer (Abu Dhabi Waste Management Company), to promote the environmental conservation of Abu Dhabi's waterways.
With a shared vision for environmental protection and waterway sustainability, under the terms of the MoU, Abu Dhabi Maritime and Tadweer, will establish a framework for exploring collaboration opportunities to ensure the waterways in Abu Dhabi are safe,clean, and free from debris and obstructions, in accordance with local and international safety regulations.
H.E Dr. Salem Khalfan Al Kaabi, Director General of Operational Affairs at the Department of Municipalities and Transport said, "This cooperation reinforces our dedication to preserving the environment and ensuring the safety of Abu Dhabi's waterways. Proactive collaboration plays a pivotal role in conservation, and this MoU signifies a commitment to combining our resources and expertise, and our determination to protect the marine ecosystem, setting a precedent of environmental stewardship in line with our leaderships vision."
Captain Saif Al Mheiri, Managing Director of Abu Dhabi Maritime said: "We are extremely pleased to be collaborating with Tadweer in this effort to establish best-in-class safety and cleanliness of Abu Dhabi's waterways. Abu Dhabi Maritime remains committed to sustaining the environment, ensuring that our waterways are safe and clean for all users, and we take pride in protecting marine ecosystems, leaving a positive impact on our environment for future generations."
Ali Al Dhaheri, Managing Director and CEO of Tadweer, said: We are proud to partner with Abu Dhabi Maritime and combine our strengths and resources to ensure the safety and cleanliness of Abu Dhabi's waterways. Together, we will diligently work towards safeguarding the environment, adhering to the highest local and international standards while delivering exceptional results. Tadweer remains steadfast in its commitment to create an integrated waste management system and protect the Emirate's environment to ensure a sustainable future for coming generations.
This cooperation reinforces Abu Dhabi Maritime's commitment to ensure the highest safety standards and best practice operating procedures for waterway usage, and underscores Tadweer's commitment to preserve natural resources and establish sustainable waste management within Abu Dhabi.